Embedded Dev Teams Efficiently Produce Compliant Software With AI-Enhanced Continuous Automation Testing Platform
News Highlights
Parasoft C/C++test 2023.1 provides complete support for the upcoming MISRA C 2012 Amendment 4 and MISRA C 2023.
+20% reduction in average time development teams spend fixing a single violation using Parasoft's CI/CD for embedded automated testing solutions enhanced with AI.
Attend: Does MISRA Help Create Safety-Critical Systems That Use Both C & C++? Presented by compliance expert Michal Rozenau on March 15.
Monrovia, CA, USA | Nuremberg, Germany — March 1, 2023 — Parasoft, a global leader in automated software testing solutions, announces its participation in Embedded World 2023 on March 14-16. Compliance experts will be available to answer all questions and provide onsite live demonstrations of Parasoft test automation solutions for the embedded real-time safety- and security-critical industries.
Visit Parasoft and its compliance experts in Hall 4, Booth 378 to see a live demo of C/C++test, the company's powerful and comprehensive testing solution for C/C++ code. Embedded development teams continue to rely on Parasoft's Continuous Automation Testing Platform seeing that it offers an impressive range of test methods, including the use of AI/ML augmented automation. Teams experience the following benefits.
21-28% drop in developers' average time required to fix or suppress errors.
Simplified and optimized coding compliance as a result of Parasoft's support, which continuously enables organizations to satisfy industry regulations and stay up to date with the latest compliance requirements.
Increased productivity and reduced labor by automating verification methods defined in functional safety standards like ISO 26262, IEC 62304, DO-178C, and more.
The MISRA C Working Group will be announcing MISRA C 2012 Amendment 4 on March 15. Also being announced is the consolidation of previous versions of the guidelines into a single edition MISRA C 2023. Parasoft C/C++test 2023.1 fully supports both MISRA C 2012 AMD4 and MISRA C 2023. Visitors can gain insights into these up-and-coming MISRA standards and other solutions. We will be showcasing our latest product capabilities in software test automation, where attendees will have the opportunity to learn about best practices in deploying the following test methods using Parasoft C/C++test:
Static code analysis
Unit testing
Code coverage
Testing on target-hardware
Test based CI/CD workflows
Automated reporting and deep test data analytics for actionable insights
"Our test automation solutions for embedded dev teams deliver measurable results towards producing safe, secure, and quality software," said Igor Kirilenko, CPO at Parasoft. "We provide our customers with seamless integrations into their development ecosystems, like Git-based CI/CD platforms and IDEs, so they can easily achieve compliance towards their verification and validation obligations."
Contact Parasoft for a briefing or to request a demo and see how the Continuous Automation Testing Platform augmented with AI simplifies and optimizes coding compliance with industry standards and regulations.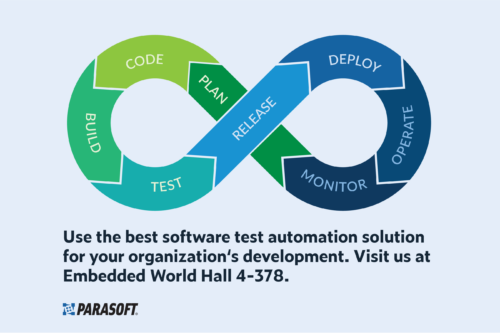 About Parasoft
Parasoft helps organizations continuously deliver quality software with its market-proven, integrated suite of automated software testing tools. Supporting the embedded, enterprise, and IoT markets, Parasoft's technologies reduce the time, effort, and cost of delivering secure, reliable, and compliant software by integrating everything from deep code analysis and unit testing to web UI and API testing, plus service virtualization and complete code coverage, into the delivery pipeline. Bringing all this together, Parasoft's award winning reporting and analytics dashboard delivers a centralized view of quality enabling organizations to deliver with confidence and succeed in today's most strategic ecosystems and development initiatives — security, safety-critical, Agile, DevOps, and continuous testing.
# # #
Press Contacts
For US inquiries:
Erika Delgado
+1 626 230 4202
For EMEA inquiries:
Beate Lorenzoni
+49 8122 559170