Gartner Recommendations on API Testing and Service Virtualization
By Parasoft
July 21, 2016
3 min read
Why Service Virtualization and API Testing are Critical
Gartner's latest research on service virtualization and API testing tools emphasizes the importance of testing at the API level. In fact, the report calls for "Extreme Test Automation" at this level:
"Testing at the API/message layer (services, message queues, database abstraction layers, etc.) offers several distinct advantages for enabling Continuous Testing at the speed of DevOps:

Stability: While GUI tests often fail due to inconsequential application changes, a failure at the API/message level typically signals a fundamental flaw in the application logic–something likely to impact the core user experience. If you're configuring a test suite failure to serve as a "gate" along the automated deployment pipeline, it's important to ensure that every failure indicates a truly show-stopping problem.
Speed: Traditional methods of testing, which rely heavily on manual testing and automated GUI tests that require frequent updating, cannot keep pace with the speed required for DevOps. Testing is delayed until the GUI is available, which is typically late in the process. Moreover, GUI tests are notoriously brittle and require significant updating with each application modification. API tests can be defined as soon as the service description (e.g., Swagger or RAML) is available, can be executed much earlier in the implementation process than GUI tests, and require minimal maintenance.
Accurate risk assessment: In modern applications, the functionality exposed at the GUI layer is just the tip of the iceberg. The core of the application logic is controlled by the API/message layer. Without exhaustive testing of critical user transactions at the API/message layer, it's hard to rest assured that today's highly- distributed systems truly function as expected."
With this emphasis in mind, the key takeaways from the report are:
"The need for API testing and service virtualization is becoming increasingly important as IT organizations develop bimodal capability to support mobile, digital business transformation initiatives and the Internet of Things (IoT).
The rapid adoption of agile and SOA-based solutions to support business agility demands that development and test organizations change approaches and tools to drive a broader, more accurate view of complex system quality.
Service virtualization enables earlier, continuous, complete and parallel development and testing of software in a highly complex, heterogeneous and distributed environment. It can also reduce overall test lab costs.
The market for testing and service virtualization is currently sized around US$200 million and growing at a CAGR of 12%. Growth is steady as businesses open up and share services internally and with partners."
Recommendations
The report provides the following recommendations :
"Evaluate your current software development and delivery processes, identifying the biggest issues and challenges from process and skills perspectives. This will lead toward an effective solution and guide the required skills to develop or acquire.
Involve roles from different functions and share ownership across several competency leaders in adopting technologies and tools. This will help identify key obstacles to overcome and provide work-arounds so the project can move forward smoothly.
Develop a plan for acquiring technologies and tools that will enable much earlier testing in the development life cycle, continuous integration and faster release processes.
Adopt a long-term tooling strategy that factors in business needs and requirements, existing processes, tool requirements, benefits, costs, expertise and training."
Service Virtualization and API Testing Tool "Must Haves"
Gartner cites the following as being the most important capabilities and features associated with API testing and service virtualization tools:
"Seamless integration between service virtualization solution and the service/API testing tool.
Broad native support for protocols, technologies and message formats (REST, SOAP, JMS, JSON), security standards (OAuth, WS-Security, Kerberos, SSL, SAML) and industry-specific protocols (FIX, Swift, ISO 20022, ISO 8583).
Runs on different platforms (Windows, Unix, Linux, Mac OS).
Integration support with application development life cycle management, IDE and/or testing tools (Eclipse, Visual Studio, HP Quality Center Enterprise, Jira).
Support for different types of testing such as functional, performance, security, compliance and coverage analysis.
Comprehensive reporting and dashboard."
Get the Complete Gartner Market Guide for API Testing and Service Virtualization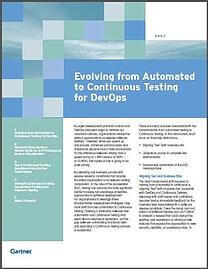 The new Gartner Market Guide for API Testing and Service Virtualization found that demand for service virtualization and API testing solutions will quickly increase with faster delivery of new business functionality to more complex IT environments. This research highlights important market trends and attributes to help heads of development and testing adopt the right solution.
Download a complimentary copy of this Service Virtualization and API Testing guide to learn more about:
Service Virtualization and API Testing recommendations for heads of development and testing.
Why Service Virtualization and API Testing are critical for web-scale architectures and microservices.
Where mocking/stubbing falls short.
How open source solutions compare to commercial offerings.
What to consider before adopting service virtualization and automated API testing tools.
To learn more about Parasoft's API testing solution, please visit: https://www.parasoft.com/solutions/api-testing
To learn more about Parasoft's service virtualization solution, please visit: https://www.parasoft.com/blog/what-is-service-virtualization