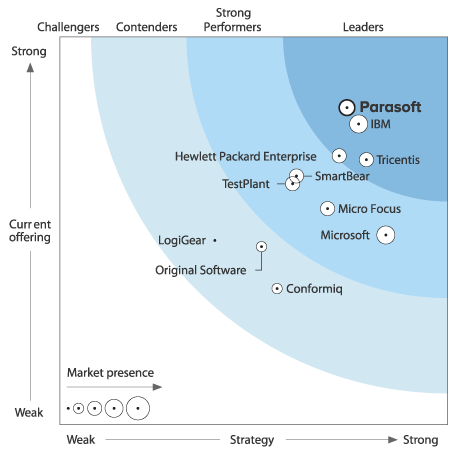 Reading Time:
3
minutes
We're pleased to announce that Parasoft was named a leader in the new Forrester Research report on Functional Test Automation Tools*. Forrester Research gave Parasoft the highest score among all vendors in the Current Offering category, noting that "Parasoft's focus on developers, API testing, and evolved analytics pays off."
According to the report, "Parasoft has the strongest continuous testing product offering, with a long list of mature features in UI automation and comprehensive functional API testing automation and rich integrations with third-party CI/CD pipeline tools, version control options, integration with Agile PM, and nonfunctional test automation such as integration and security testing. These features plus the solution's performance and service virtualization tools make it stand out. Parasoft's solution also stood out in our assessment of maintenance, reuse, and reporting analytics."
This Forrester Wave report evaluates 11 functional test automation tool vendors across 33 criteria to help organizations working on enterprise, mobile, and web applications select the right tool.
Continuous Deployment Needs Continuous Testing
The report points out the importance of continuous testing in enabling a continuous integration and deployment pipeline. "In this modern development environment, testing also becomes continuous and pervasive throughout the CD life cycle our Agile adoption research shows that 54% of expert Agile firms — those that are more successful with Agile — use continuous testing, while just 30% of Agile neophytes do."
Continuous Testing Enables Agility in Agile Processes
Also interesting is the Forrester report's alignment with our own thoughts on how continuous testing provides the agility in Agile processes: "A core capability in Agile and DevOps where all testing activities run continuously in an integrated fashion with development and delivery. Immediate bug fixing is enabled, test environments are provisioned instantly, and unit, functional, and nonfunctional tests are run in an automated way, orchestrated by continuous integration and continuous delivery tools. it's straightforward to see that because continuous integration (Ci) and CD are highly automated, continuous testing must be too."
Although automation is key, it's important that their adoption doesn't devolve in automation meaning testing everything all the time. The report goes on to state "While it is important to increase the level of test automation to speed up delivery, dev teams face the risk of trying to automate too much. Automation isn't free; the tools cost money, as do testing pros with automation engineering skills. the goal of test optimization is to reduce test cases while increasing coverage, thereby saving both automation creation and execution time and effort. "
API Testing Is Critical
Forrester emphasizes that API testing is a critical component for modern application delivery: "As organizations shift to continuous testing, older approaches entirely focused on user interface (UI) testing become less effective. Going beyond the UI and testing APIs is crucial to avoiding brittle test suites and increasing test coverage. Application development and delivery cannot achieve ruthless automation by focusing solely on test execution automation; it also requires automating test design and process orchestration. the vendors that best address all those needs lead the pack."
Developers are also realizing further benefits for functional test automation: "Driven by mobile, the internet of things, and the need for speed, dev teams want to use their functional test cases not only for user acceptance testing (UAT) and automated regression testing, but also for testing load performance — and they want do more of it. performance testing is shifting left, meaning that teams test load performance early and locally so they can fix their designs sooner rather than later. They also want to leverage feedback from monitoring tools so that when alerts happen in production they can feed load performance profiles and create early performance tests."
Parasoft Realizing our Vision
The Forrester Wave report concludes: "[Parasoft] is realizing its vision for using analytics to improve testing performance. its road map plans to evolve the product to shift testing both left and right and to grow its product API and service virtualization convergence, further enabling FTA beyond the UI. some Parasoft clients highlighted their satisfaction with not only the technical tool's capabilities and ease of use, but also the vendor's outstanding support."
*Forrester Research, Inc., "The Forrester Wave™: Modern Application Functional Test Automation Tools, Q4 2016," December  5, 2016.