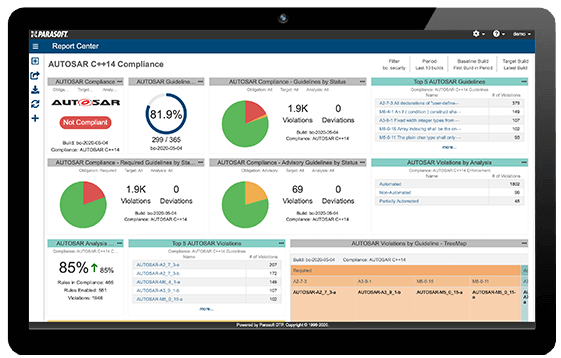 How Parasoft Helps Achieve AUTOSAR Compliance
The only practical way to enforce compliance with a coding standard like AUTOSAR is with a static analysis tool like Parasoft C/C++test, and Parasoft C/C++test supports AUTOSAR better than any other code quality tool.
In addition to the mapped AUTOSAR rules, Parasoft's interactive reporting system can also be customized to the requirements imposed by whichever rules are being used by the team (i.e. AUTOSAR, HIC++, MISRA, etc.) to enable an efficient daily workflow. Developers can check the compliance of their code without leaving their IDEs, and also integrate the scanning process into CI builds on servers.
When cleaning existing codebases, teams benefit from the ability to create compliance policies that define what assures the consistency of the testing practice. In such cases, it is a recommended practice to start with the subset of the rules from the standard, and progressively increase the number of active rules as cleaning of the code progresses. This reporting layer allows you to constantly monitor the progress of your codebase, control the deviation process, and make educated decisions about extending the rule set.